Information
By receiving this highest standard of recognition, Gold Standard Sites are exemplary models, encouraging other public lands to ensure that Leave No Trace education is part of everyone's experience when spending time outdoors. Learn more about what it means to be a Gold Standard Site here.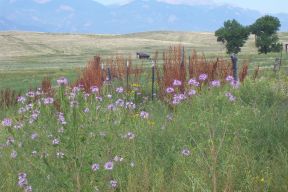 Bluestem Prairie Open Space offers 650 acres of prairie grassland and bird watching paradise. NOTE: No dogs are allowed, due to native wildlife.
Home to over 200 bird species and several mammal species, Bluestem Prairie Open Space has become a refuge for a variety of native wildlife and vegetation.
Located just south of the Colorado Springs Municipal Airport, this land once belonged to the Banning-Lewis Ranch. Here ranchers relied primarily on rich soils and thriving grasslands to survive.
This land remains home to varied mammals such as the Pronghorn, the Black-tailed prairie dog and birds like the Red-tailed hawk, Burrowing owls and Migratory Shorebirds.
Where is the Bluestem Prairie Open Space located?
From Colorado Springs, take I-25 south to Exit 138. Turn east onto Lake Avenue, which will turn into South Circle Drive. Turn south onto Hancock Road, which will turn into Hancock Expressway. Turn east on Drennan Road. From Drennan Road turn south onto Powers Boulevard. The Bluestem Prairie Open Space will be readily visible after 1.5 miles.
Follow the Leave No Trace Seven Principles
The City of Colorado Springs Parks, Recreation & Cultural Services department is proudly partnered with the Leave No Trace Center for Outdoor Ethics in order to promote environmental stewardship and safeguard the natural, cultural, and historical resources that make Colorado Springs such a fantastic place to live and visit. Follow the Leave No Trace Seven Principles to help keep our parks, trails, and open spaces healthy and sustainable.  For more information visit lnt.org
| | |
| --- | --- |
| | Plan ahead and prepare. With blue sky for miles, Bluestem Prairie Open Space has minimal shade. Always wear sun protection and bring plenty of water when visiting the Open Space. In summer months, avoid hiking in the middle of the day. |
| | Travel on durable surfaces. Staying on designated trails preserves the sensitive prairie grass and prevents erosion. Bluestem Open Space does not get much moisture; trampled vegetation takes a long time to grow back! |
| | Dispose of waste properly. Practice the art of "Pack it in, pack it out" while in the Open Space. This keeps harmful pollutants out of the watershed and ecosystem, keeping it healthy and sustainable. |
| | Leave what you find. Picking flowers removes a nutrient source for pollinators such as bees, butterflies and bats. Taking a picture or creating a sketch leaves energy-rich nectar for these vital members of our ecosystem! |
| | Be careful with fire. Flame and dry prairie are not a good combination. Fires, grilling, and smoking are prohibited at Bluestem Prairie Open Space. Help us protect the Open Space from grassfires. |
| | Respect wildlife. Prairie dogs, pronghorn, and several species of raptors call Bluestem Prairie home! To protect sensitive species, including Burrowing Owls, dogs are not permitted in the Open Space. |
| | Be considerate of others. Bluestem Prairie Open Space has so much for everyone to enjoy! Remember to be courteous to other users, such as birders and those seeking solitude. Keep noise levels to a minimum. |
© 1999 by the Leave No Trace Center for Outdoor Ethics: www.LNT.org.
Want to volunteer at Bluestem Prairie Open Space? - visit www.openspacevolunteers.org
Master and Management Plan
Master PlanA plan for the development of a portion of the city that contains proposed land uses, a generalized transportation system, and the relationship of the area included in the plan to surrounding property.
Management Plan
The Bluestem Prairie Open Space Management Plan was adopted by the Park and Recreation Advisory Board on March 10, 2016.  We thank the public for their valued input and participation in the public process.
The preservation of the Bluestem Prairie Open Space was made possible through partnership and widespread community support including:
Big Johnson Advocacy Group
Citizens of Colorado Springs
City of Colorado Springs TOPS Program
Great Outdoors Colorado
Palmer Foundation
Trust for Public Land
Private Donations
Trails & Open Space Coalition